Hooray for Friday! It's been a long a full week. Time to fill in some blanks...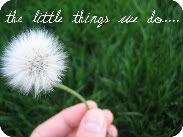 1.

The best deal I've ever gotten is

two suits I bought at Express a couple years ago - had a $50 off a purchase of $150 or more and they were on sale - ended up at over 75% off. Also got over $60 worth of shampoo, conditioner, lotion, body wash and a couple other things at CVS for $12 after mail-in rebate!
2.

If I were hosting a dinner party and could invite people from my fantasy guest list it would include

my grandfather on my dad's side (I never met him), Josh's grandparents (I never met them either) and then I would have Josh's and my entire families come, too. I think it would be really amazing to spend an evening all together and absorb some lessons about why we are the way we are; we all started with them!
3.
Something that inspires me is
music and photography! I used to blast music and get ready for work. It's been about a year since I've been cohabiting with Mr. Smith and I've had to tone down my morning routine since he sleeps later than me. Until now, I never realized how much music set my tone for the day! Photography is a new inspiration.
I recently took a photography class with Diana Elizabeth and it has really opened my eyes to a power within me to create something visually appealing. It's fun to discover new tricks and techniques and have it be something that I am teaching myself. My camera inspires me to look at things in a new way and also continue to learn new things.
4.
If I could only choose to eat one flavor of food for the rest of eternity (sweet, salty, spicy, bitter....) I would have to go with

SALTY! There are times when I crave sweet, but I'm a salty girl all the way - peanuts, pretzels, Goldfish crackers, cheese, Cheez-Itz, popcorn... I love it all!
5.

I dream about

being pregnant and going in to labor and looking down and seeing a flat stomach. According to this online dream dictionary, dreaming of being pregnant and going in to labor has something to do with my baby fever, but it could also mea

n that my

"
goals will take a lot of hard work to accomplish"
or that I am
"
giving birth to a new idea or project. It also represents a new attitude, fresh beginnings or a major event"
and even perhaps that
"
the dream may be calling attention to your inner child and the potential for you to grow."
Either way, that's what I'm dreaming about.
6. My weekend will be spent it started with a visit to the vet, where Harley was officially deemed to be on the road to recovery - no fever, well-hydrated and eating. We have a 5th visit to the vet next Wednesday for her final round of vaccinations that will conveniently vaccinate her for this FHV that she has right now. :-/ Tonight, Josh and I are laying low with pizza, beer and the DVR. Tomorrow, Josh is playing golf with my dad, I am picking up our Bountiful Basket and will get this house in to shape. Tomorrow afternoon, we are going to Lexi's 3rd birthday party and Sunday, we have NO plans!
7.

If I could only watch one movie or TV show for the rest of my life, it would be

...watching one thing for the rest of my life would not be very satisfying - I'm sure I would quit watching television at some point. But, for the sake of the question, it would have to be Glee or maybe Shameless which is inching its way in to one of my favorite shows. Sex and the City also comes to mind. Well, I've hardly picked only one, now haven't I?